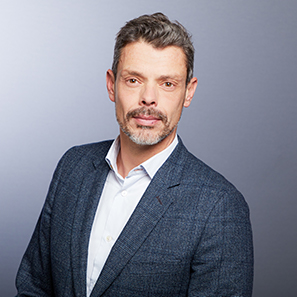 Fabrice holds degrees in political science (Institut d'Etudes Politiques in Paris) and law (Maîtrise de Droit from the University of Paris I, Panthéon-Sorbonne). He began his professional career with the Edmond de Rothschild Financial Company and continued at BNP Paribas with the Mergers and Acquisitions team (Corporate Finance) as head of pooling transactions.
He has led some 30 transactions in the mid-cap segment in the following sectors: media and communication, pharmaceuticals, healthcare, energy, specialized distribution, construction materials, industrial equipment, and consumer goods.
He is also Chairman of PPRS (company specializing in the development of molecules and medical devices for therapeutic and diagnostics purposes in the Central Nervous System field), member of the SFAF (Société Française des Analystes Financiers) and of two MEDEF committees (Research & Innovation and Tax system).
+ 33 (0)1 40 27 00 11 | + 33 (0)6 50 35 69 09